Each year we ask our interns to write a blog post at the end of their time working with us looking back on their time in the DH Lab. Here is the second of this year's blogs from Dayna:
Being a DH Intern
Working at the Digital Humanities Lab over my final year has been an incredible and exciting end to my time studying History at Exeter. I first heard of the DH Lab in my second year through the Festival of the Past, and I was immediately impressed with its innovative and important work. Despite having very limited technological experience prior to my internship, the Lab has cultivated and encouraged me to learn and develop a multitude of skills.
I was introduced to the many operations of the lab through weekly training sessions including lessons on photography, photogrammetry, reflective transformation imaging (RTI), and more. Within these guided sessions, I not only developed a repertoire of skills through hands-on experience but also a sense of confidence to experiment with new things.
Alongside the training sessions I also began independent work on other projects in my shifts. In the lab, I began digitising some of the Bill Douglas Cinema Museum's film programmes which introduced me to Capture One software and handling archival material. Working with this helped prepare me for later work I would do with the Museum's stereocards and glass slides, which I both digitised and morphed using Microsoft Powershell. Meanwhile, whilst helping on the advisory desk I created posters for an exhibit in the Arabic and Islamic Studies department. This demonstrated to me the interdisciplinary approach of the Lab's work and the range of material being worked on.
One of my favourite parts of working in the Lab has been 3D printing. At the start of the internship, the team are so encouraging to engage in this method in fun, innovative, and experimental ways. As such, I was able to print a range of novelty items including an articulated lizard, a glow in the dark cat, and even create my own snowman on TinkerCad to then print out. With the lab's addition of a Formlabs resin printer, as well as their Ultimaker 3 and Makerbot, I was able to understand the subtle differences between 3D printing techniques.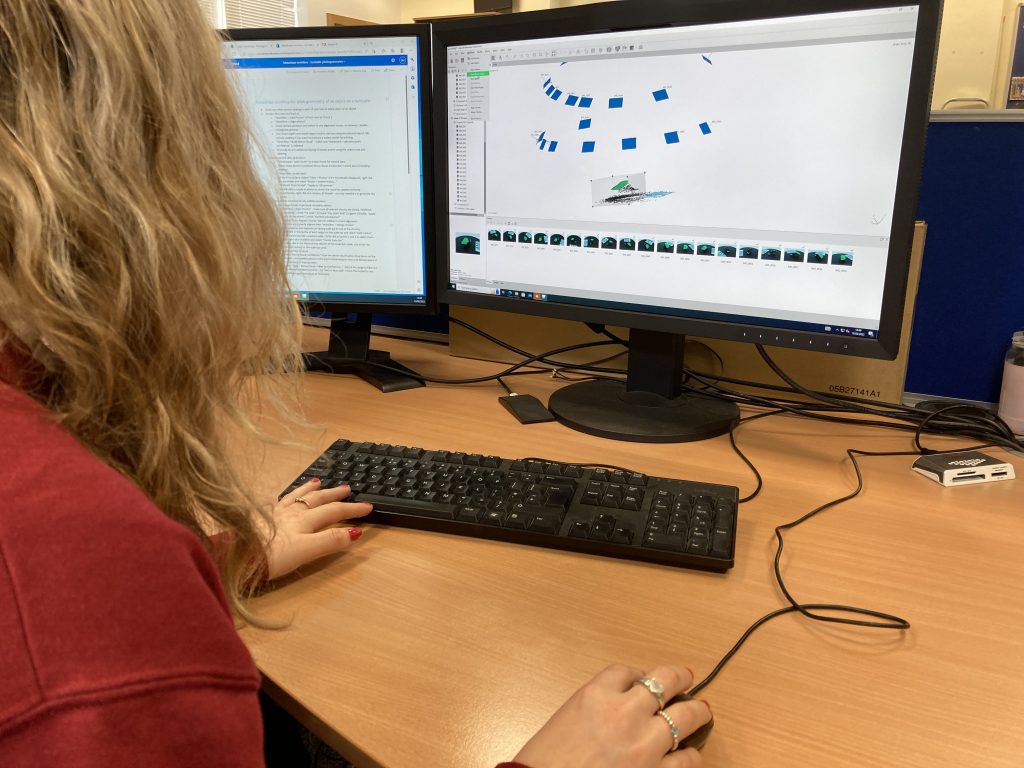 Towards the end of my internship, I became involved with the lab's social media pages. I helped create Instagram stories to raise awareness of the lab's facilities and availability to HASS staff and students. From this, I also created some short video content for the wider Archaeology and History Department. These videos further explained the lab's work, especially drawing attention to opportunities offered to student interns. I really enjoyed making these videos as it consolidated my year's long experience at the lab in an informative and useful way to encourage and educate other students. These can be viewed on the departments TikTok page @Uoearchhistdept!
In addition to these broader tasks, my time working has also involved projects like transmitting data from floppy disks and digitising objects from archaeology teaching packs. I've also helped represent the DH lab on undergraduate open days where I have gotten the chance to speak to prospective parents and students about the lab's opportunities. In all, my internship has encompassed a myriad of projects and disciplines that has made it a continuously exciting and educational role. Looking back, I am amazed at how much I have accomplished when considering that I began with such limited knowledge in this field. The enthusiasm of the team, and their unwavering support and encouragement has made for a thriving learning environment. I have loved coming into work with each shift being totally different from the last. I would absolutely recommend this opportunity to anyone interested!