Each year we ask our interns to write a blog post at the end of their time working with us looking back on their time in the DH Lab. Here is the third of this year's blogs from Isabel:
Hi, my name's Isabel and I'm a third year History student and intern at the Digital Humanities Lab and this year I've been lucky enough to enjoy my second year at the lab.
Recently, I've been spending my time getting to grips with photogrammetry and 3D modelling. On top of photographing and processing lot of palaeolithic flints and ancient pottery from the archaeology department's teaching packs, one of my main projects I worked on was fully processing a small ornament from a physical object, to a digital model, to a physical object again in the form of two differently printed 3D prints. I started with the original Egyptian pyramid ornament, photographing it in the photogrammetry set up in the lab space. Then, these photos had to be processed in computer software which aligned the images into one digital 3d model.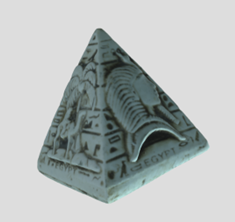 Once this was completed, I printed the first 3D model in our Ultimaker 3D printer in white and finally I printed a green resin model in the form lab printer and had a look to see how different the results were.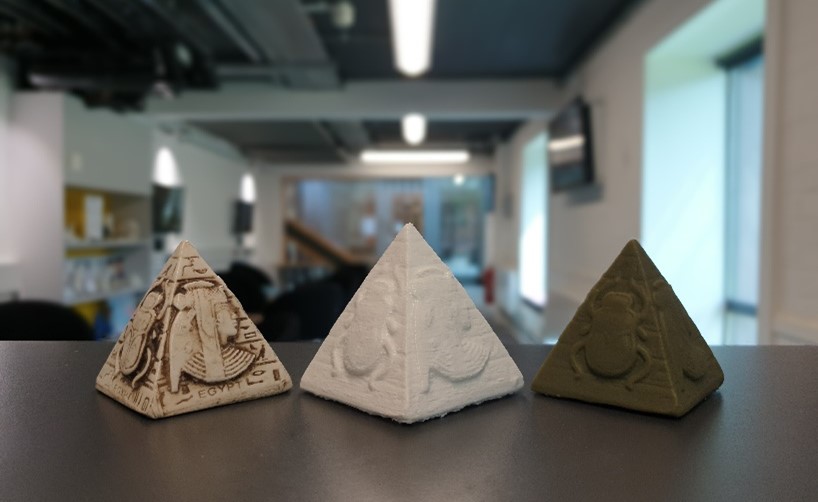 This year I also got to spend a lot of time with the RTI dome. On the one hand this meant creating RTI images of the archeology from the teaching packs so that people could better see the markings and lines on the side where the pottery had been cut and which showed more information about how the pottery was made. On the other hand, this also meant experiemtnsing with some of my own objects to see how they would look under RTI. I experimented with a necklace of mine with bronze age chain on it to see what the different RTI photos would show me.

And finally, I got to have a bit of fun at Halloween this year when I printed a glow in the dark pumpkin pot!