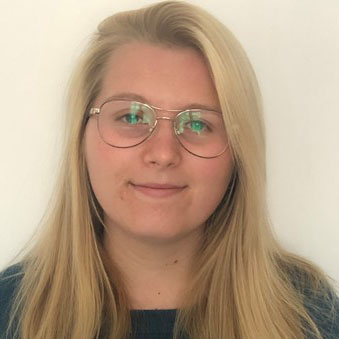 Hi, I'm Courtney and I've just completed my BA English degree. In my final year I have worked as an advisory intern in the DH Lab and loved every minute. In this very unusual year, I have been lucky enough to gain experience in the lab and have got to work on some very exciting projects remotely.  
I first became interested in digital humanities, when taking the Rethinking Shakespeare module in my first year. On this module we had the option to create a digital edition of the ending of King Lear in TEI/XML for one of our assessments and from then on I was hooked. Over the course of this year, I have learnt more about 2D and 3D digitisation even creating my own RTI (Reflectance Transformation Imaging) set-up from home when the second lockdown hit – a testament to what can be achieved with a torch, a marble and some string. Later in the year I was finally able to get back into the lab and learn how to use our RTI dome and complete some digitisation of Northcott Theatre materials using the A0 copystand in Lab 1 too. Although the AV Lab has still evaded me.  
For the majority of my internship, I have assisted on a collaborative project for the Computer Science and Classics and Ancient History departments. When we started our internships with the lab, we were encouraged to make use of Codecademy. With my first interest in DH being fostered by encoding, I quickly jumped at the chance to learn more. From this and X-Ai and the Entrepreneur Society's ExCode programme in first term I acquired basic coding skills in python (and HTML and CSS) which enabled me to assist on this project. The aim of the project is to apply machine learning to the problem of identifying and measuring textual characters and is still ongoing. I was able to get involved by adapting existing code for Grad-CAM (Gradient-weighted Class Activation Mapping) on GitHub into Google Colab, which will help analyse a classifier used by the PIs. This has deepened my understanding of machine learning and enriched my knowledge of Python through working with real world examples of its implementation.  
I have also had the opportunity to develop my skills on Photoshop ̶ which could just as aptly be put as "playing" ̶ through designing a banner and thumbnails for one of The Elbeuf Letters websites. A lot of work in the DH Lab allows you to draw on creativity in unexpected ways, but I did particularly enjoy the more artistic process of designing for this task. As a humanities student searching for meaning is part of the job description so it was great to experiment in creating it through symbols instead.  
My year as an intern has been an unprecedented one due to the pandemic but also because of the stream of innovative work that runs through the lab. I've gained both technical and soft skills that will be invaluable to me not only in pursuing further work and study in DH but also in more unexpected ways. If there's one thing I've learned, it would be to never underestimate how useful the most irrelevant skill or detail may become. Try the unorthodox and especially the challenging. This internship has exponentially enriched my university experience, both through encouraging me to consider new approaches to my studies and by integrating me into a community that nearly felt out of reach in these strange times.